Class Action: Advocating for our Children before God's Throne
Welcome, concerned mothers, despairing fathers and desperate parents/guardians!
As a Christian, I know many of you are struggling with disobedient, rebellious and even spiritually empty children.  As an attorney, I am calling for a "CLASS ACTION" suit. Our battle is not a confrontation or conflict against our own flesh and blood.  Rather, it is battle we wage against those forces from the very pit of hell, "…against the rulers, against the authorities, against the powers of this dark world and against the spiritual forces of evil in the heavenly realms…" (Ephesians 6:11-13).
Do any of these struggles resonate with you?:
Do you sometimes feel powerless, ill-equipped and even helpless as an effective, spiritual  advocate for your child/children?
Are you chasing after boldness, God confidence and POWER to defeat the Enemy's ongoing battles and lies, all taking place in your children's lives?
Are your seeking encouragement, guidance, inspiration and direction to pray powerfully and plead your child's case before God's throne?
If you have answered YES to any of the above questions, you are in the right place!  Let me assure you, you are NOT ALONE!  You observe this never-ending battle from your friends, your neighbors and your communities. You read about the grueling struggle of our children everywhere: in the newspaper, on TV, on social media and internet help boards. You watch and witness these heartbreaking conflicts everywhere you go, whether you are at the park, church or at the shopping mall.  Parents/guardians are clearly not batting 100% with their children in this day and age as the majority of our offspring are in some form of menacing rebellion.  The Accuser, the wicked one who viciously lies to the susceptible and vulnerable, has insinuated formidable toeholds, footholds and strongholds upon our youth: Drugs, alcohol, sex and general depravity. LET'S BE VICTORIOUS THROUGH CHRIST JESUS AND BEAT OUR ADVERSARY!
We have all seen firsthand the many children raised in wholesome, healthy homes, who have become lost, rebel, and walk away from their faith, and into the dark and destructive forces of the world.  You may have a child that was not raised in a healthy home environment and need encouragement on how to advocate and assist that child find their way to the Lord.  I also want to encourage and assist parents who are uncertain whether their children have ever known or held a relationship with Christ.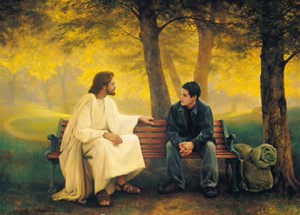 As a mother and a lawyer, God has put before me an invitation and opportunity to encourage, guide and mentor parents and guardians who are looking for support, inspiration, reinforcement and most importantly, EMPOWERMENT in advocating on behalf of their wayward and/or spiritually lost children.  So many of our children have turned their eyes from God and are living with their eyes focused solely on the world.
As an attorney, trained to advocate, plead and make the absolute best case for my clients, I view this spiritual call as a divine mission.  I believe God has appointed me to the assignment of not only representing my children before THE High Priest, I believe He has also commissioned me to help other despairing parents by encouraging them to represent and advocate for their children. As a daughter of the King of Kings, as well as a wife, mother and grandmother, I am aptly familiar with the nature of the spiritual battles confronting our offspring on a daily basis.
Parents, we must be conscious about the dire seriousness of our role in advocacy, representing our children:  Our children are facing a spiritual death penalty!  There are no second chances once our child's life on earth is finished.  As such, it is imperative that we directly advocate before our Lord Jesus, our Anointed Savior, Mediator, Intercessor, and the Highest Priest of the most high. FOR HE  IS OUR ADVOCATE, OUR LIGHT, OUR REDEEMER, AS WELL AS THE SHEPHERD AND BISHOP OF SOULS.
I believe God is calling for the raising of an ARMY of advocates in this generation as the devil is stealing and lying to our youth in untold numbers.  He wants to RESTORE our children to righteousness for the glory of His Kingdom.
I want to be a part of that army, to fight against the dark, devious and evil forces of the Dark Enemy who is of this world.    Will you join me?